Trustech Electronics Co.,Ltd
Complete PCB supply chain solutions from circuit boards to finished products
Our own factories | ISO 9001-, ISO 14001- and ISO/TS 16949-certified
Trade Show

Major Customer
Contact Supplier:

Add to Basket
Ms Wang, Ivan
Sales Director
Ms Luo, Ada
Sales Engineer
Response Rate: High Avg Response Time: Between 24h to 48h
Follow Supplier:

Follow Me
Company Information
Services and Support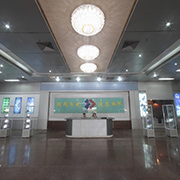 Our Service Reception
Sample Availability & Policy:
Samples available with freight classified.
Sample availability and lead time:
Ext factory:
Single-sided: 1-3 working days
Double-sided: 1-4 working days
4-20 layers: 2-12 working days
Guarantees/Warranties/Terms and Conditions:
We guarantee to deliver high quality samples within four to 15 days. We also guarantee free samples (in limited quantity) for our customers.
Export/Import Processing Support:
Due to our advanced global logistics network, our products can be delivered all over of the world. Leading e-business technology makes our services efficient and easy.
After Sales Service:
We offer complete after-sales services. Our employees will hand in all the TQ within one working day, ensuring the projects are carried out without delay. And our sales assistant employees offer in-time information for customers to check and review

This Verified Supplier's Business Registration profile has been independently verified with relevant government agencies
Supplier and product information updated May 19, 2017.
Submit your Buying Request with TradeMatch


Fast and easy to use

Receive tailored offers

Compare quotations

Close
Please select your preferred language:
If you wish to change the language or use the original language later, please refer to the header or footer for more language options.
Verified Manufacturer

The business scope of this supplier's independently verified Business Registration, as licensed by relevant government agencies, allows it to manufacture goods. View BR Profile
Supplier Capability Assessment

This supplier has a supplier audit from an independent 3rd party. View details

Click photo to download report
Back to Top